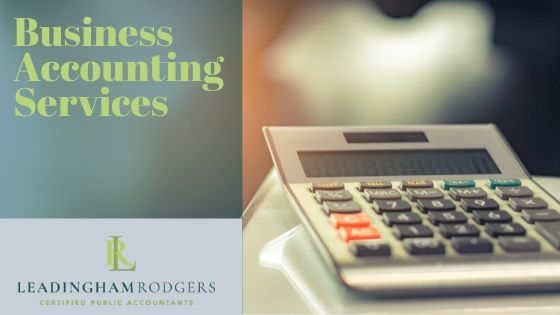 Business accounting provided by CPAs committed to your success
Many accounting firms appear disconnected and disinterested in your business, resulting in a cold, impersonal relationship. At Leadingham Rodgers, L.L.C., we revel in your success as it encourages our own. We provide close, individualized attention to our clients, assuring you that the personal assistance you receive comes from years of advanced training, technical experience, and financial acumen. 
In this blog post, we would like to go over the wide range of accounting services we offer businesses and what you can expect from our level of expertise. 
Accounting Services at Leadingham Rodgers, L.L.C.
At Leadingham Rodgers, L.L.C., our Certified Public Accountants (CPA) are committed to providing information to our clients in a timely and accurate manner. We never compromise in crafting meaningful, well-organized financial records with a focus on day-to-day efficiency for your business. From setting up accounting systems for new companies to providing litigation support down the road, our experienced staff is prepared to become a part of your team. We will work diligently to help your business succeed. 
General ledger and financial statement preparation
Preparing and maintaining a general ledger for your business can be very time consuming, making it challenging for most people to ensure accuracy. CPAs prepare general ledgers and financial statements for accurate accounting, saving you time and money. 
The financial statements that we produce can be a useful tool for management or for making financial decisions. These statements are prepared following professional standards. Still, we express no opinion or any other form of guarantee on the underlying information included in them. 
Bookkeeping 
Bookkeeping is the basis of your business's accounting system. Our qualified staff can assist with recording and classifying your business's accounting transactions and the techniques used in recording those transactions. We act as a part of your team to make sure your financial records are meaningful and well-organized, so your business operations will run more efficiently on a daily basis. 
Computerized payroll services
At Leadingham Rodgers, L.L.C., we continually invest time and resources in professional continuing education and state-of-the-art computer technology. We help your business utilize the most intuitive and innovative computerized payroll services available. 
Business tax return preparation
The preparation of a company's tax returns ranks among the most daunting tasks for any business owner. Our CPAs develop tax strategies for your business that take advantage of new tax laws and legislation. We also offer tax planning & preparation, IRS Representation, sales tax services, and a variety of other tax-related services. 
Litigation Support
Litigation support involves the use of accounting and auditing techniques to quantify the economic damages of existing or pending litigation. We have competent staff with years of experience who can compile information efficiently to assist in the calculation and documentation of any potential economic loss or damages.
Other services offered at Leadingham Rodgers, L.L.C.
In addition to business accounting, we also specialize in business consulting, where we gauge our worth by the success of our clients. We can help your business identify areas that are hurting your profitability and growth and develop practical and technically-sound solutions. We provide comprehensive, flexible strategies that address the issues affecting your business. 
The following are just a few of the areas in which we provide consulting services:
Accounting software selection and implementation

Type of entity selection

Business valuations

Buying/selling a business

Computer systems

Financial & retirement decisions

Estate, trust & gift planning
---
Learn more about how the Certified Public Accountants at Leadingham Rodgers, L.L.C., can help your business find success. 
We continue to invest our time and resources in professional continuing education, state-of-the-art computer technology, and extensive business relationships as a sign of our commitment to excellence. We believe in the value of relationships and are committed to providing close, individualized attention to our clients. If you would like to find out more about how our accounting experts can help your business, call (334) 270-3366 today.