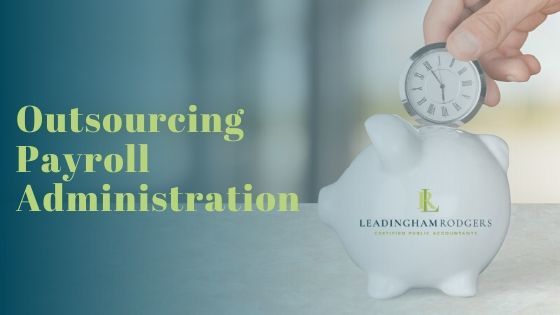 How Outsourcing Payroll Gives Time Back to Busy Business Owners
Not a single business owner will tell you they wished they had waited longer before finally outsourcing their payroll administration! Many owners say they wait far too long to outsource parts of their businesses that could have more easily been run by an expert. 
Whether you own a chain of restaurants, a private physician practice, or a consulting firm – payroll and taxes are most certainly not in your wheelhouse but are rather a necessary evil. Perhaps you started off in the early days of your business using QuickBooks, or maybe RUN by ADP. After all, "how hard could it be?" you thought.
And for a while, it's not so bad – you only have 2 or 3 employees, your system cuts payroll checks, allows you to pay vendors, and tells you when to pay your taxes. However, there's a magical place in time when you realize how painful and time-consuming payroll administration tasks have become. How much time it takes away from running your business. And when that time comes, you'll know you need to find experts to take this task off your plate.
You won't believe the time and money savings when outsourcing payroll administration
Many entrepreneurs believe they are saving money by handling payroll themselves. However, businesses can actually save a lot of money and resources by outsourcing payroll to an accounting firm.  There are three main reasons why:
Time is money.

As a new business owner, it seems like everything is competing for your attention.  There aren't enough hours in the day to get your business off the ground, much less spending copious amounts of time on administrative tasks.  Offload as many of these administrative tasks as you possibly can, as early as you can.

Financial regulations are TOUGH.

Payroll tax compliance, keeping up with federal, state, and local rules and regulations – well, these things can eat up your day.  An outsourced payroll administration specialist does these things

all day long

.  They keep up with the frequent changes in rules and regulations so you don't have to spend time pouring over government websites. These accounting experts can do in a half-hour what probably took you 12 hours to do last month.

Are your financial records secure?

Do you have a special secure firewall at your business that prevents hackers from getting ahold of valuable employee or company financial information? Professional accounting outsourcing experts maintain secure servers at their offices so that your payroll and company data do not become victims of cybersecurity breaches. In addition, can you be certain that no one at your small business has been involved in unethical activities with your payroll software while you weren't looking? Outsourced payroll administrators are known for offering the best, cutting-edge systems for protecting your data and protecting you from payroll fraud. 
So how do I find the right payroll administration firm to suit my needs?
Now that you've made the decision to outsource your payroll administration, finding the right firm is critical to achieving peace of mind. After all – this is the scary part of the business for you, and you want to get it right.
The decision to hand your payroll administration over to another party comes down to finding an accounting firm with which you can develop a true business relationship, not just a transaction-based vendor. You need a level of comfort from your outsourced payroll administrator that they not only know what they're doing, but they actually like what they're doing, and they like doing it for YOU! 
You can't put a price on the comfort that comes from working with a team of people who want to do their very best for you, day in and day out.
At Leadingham Rodgers, L.L.C., we believe in the value of relationships. We look at every client relationship as a chance to partner together for your success. We truly believe that if your business is successful, we will be too. 
We have a reputation for providing you personal attention, and our clients tell us that this gives them the confidence to put their trust in our hands. We have years of experience handling outsourced payroll services, and as your business grows, we hope that we can consult with you on other business matters that come along as your company grows and matures.
---
Learn more about how Leadingham Rodgers, L.L.C. can help you with payroll services for your business
At Leadingham Rodgers, L.L.C., we value relationships and provide close, individualized attention to our clients. If you would like to find out more about how our accounting experts can help your business with payroll services and more, call (334) 270-3366 today.