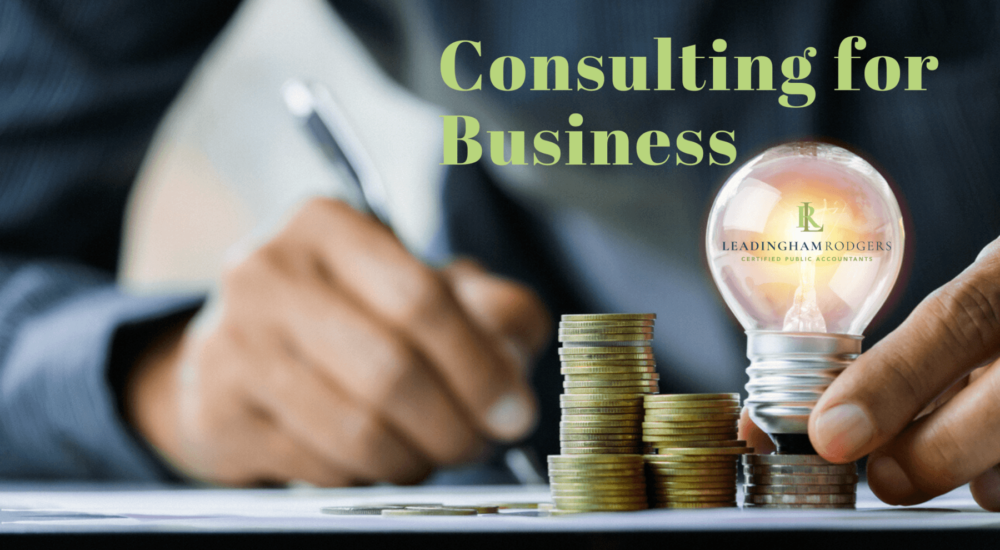 CPA Consultation – What Leadingham Rodgers Can do For Your Business
"Should I consult a CPA about this?" 
"What can a CPA really do for my business?"
"How much of a difference could consultation really make?"
If you're a business owner, chances are good that you've asked, or at least considered, these questions. You may have even brushed off the need for consultation by citing your own experience or the experience of your in-house staff.
If you're brushing off consultation services from a certified public accountant, you may not be totally aware of the complete range of potential.  CPAs can help your business thrive by providing expert advice and sage guidance through the best and worst of times. Any business at any stage can benefit from consulting a CPA.
But what can they really do? When might you more seriously resolve your business to the services of a CPA?
Debt and Financing Services
Every penny and second counts when it comes to managing debt or evaluating financing options for your business. A missed opportunity here or a forgotten asset there can cost your business unseen amounts.  
Certified public accountants run that gauntlet every day of their professional lives. Whether it's securing financing for your personal or business needs, or consolidating your current debt to make it more manageable, you'll want a tried and tested expert at your side.
Management Advisory Services
Effective management means being open to objective feedback and constructive advice. Even the most competent managers can benefit from an outside perspective.
Together with a CPA, your company's management team can develop detailed objectives and sharp strategies for targeted, future growth.  
Pension & Profit Sharing Plans
Retirement and pension plans involve exquisite balance and fine tuning. Making the best decision for both your business and your workforce (including yourself) requires an expert hand.
Qualified retirement plans provide significant tax advantages for both closely-held businesses and the self-employed. A CPA can help you evaluate and construct the right retirement plan.
Litigation Support
Litigation can be a stormy sea. You'll want a steady hand to sail your ship. A CPA can most accurately quantify economic damages relating to existing or pending litigation. They can compile information, assist in calculation, and gather documentation illustrating any potential damages or economic losses with expert precision.
Your CPA can even serve as an expert witness, providing their utmost professional opinions.
Mergers and Acquisitions
The complexity of mergers and acquisitions cannot be understated. By consulting a CPA, you'll gather invaluable insight into such critical elements as tax considerations, product/service compatibility, financial impacts, and cash flow analysis.
Stepping into the unknown doesn't mean yielding to the unknown. Your CPA can give you the advantage when you need it most.
The Question is: What CAN'T consulting a CPA do for your business?
At any stage, through promising times and stormy litigation, a CPA from Leadingham Rodgers can help your business survive, thrive, and flourish into the future. A DIY attitude can take you and your business a long way, but calling in an expert when needed might just save the day.
Learn more about how Leadingham Rodgers, L.L.C. can help you with payroll services for your business
At Leadingham Rodgers, L.L.C., we believe in the value of relationships and are committed to providing close, individualized attention to our clients and their businesses. To learn more about what a CPA from Leadingham Rodgers can do for your business, call (334) 270-3366 today.